Pebbly beaches in the world
Truth be told, I quite like pebbly beaches.
Ever since I was a child I never liked the feeling of sand. It sticks everywhere and you cannot get it out of little nooks and crannies – need I say more.
Anyway, it is my immense dislike of sand that got me thinking about the best pebbly beaches in the world. If you are like me and detest sand, you might like to visit out one of these awesome pebbly beaches.
Pebbly beaches in England
England has a large percentage of pebbly beaches. In fact I think it would be quite rare to find a regular sandy beach in England.
Here are the best pebbly beaches in England.
Chesil Beach (otherwise known as Shingle Beach) Dorset
One of the top contenders for a pebbly beach in England is a 29 km (18 miles) long pebble beach known as Chesil Beach in Dorset.
The other name for the beach is Shingle Beach, shingle meaning pebbles.
Shingle Beach is not exactly a regular pebbly beach. The pebbles at Chesil Beach in Dorset greatly range in size from the size of a small pebble to fist sized pebbles in the South end of the beach.
For this reason, this pebbly beach is one of the most popular in the world and certainly one of the most popular in the UK.
Interestingly, smugglers could work out where they had landed by the size of the pebbles on the beach.
Other than pebbles you can also discover magnetite and pumice at the beach.
Brighton Beach, East Sussex
Brighton is one of my personal favourite beaches in the UK as my grandparents used to own a holiday home there.
I'm sure it will come as no surprise to you that there is no sand at Brighton & Eastbourne beaches only well, pebbles!
The beach in Brighton is lovely and perfect for swimming in the summer time.
When you are not frolicking in the Brighton briny there are plenty of restaurants overlooking the water to enjoy and cute shops to explore in the Brighton laneways.
Slapton Sands, Devon
Located in Devon, Slapton Sands is one of the most popular beaches in the UK.
Despite the name 'Sands' Slapton Sands is in fact a pebble or shingle beach! Locals like to visit the beach to work up some muscles walking on the shingle.
Slapton Sands has a little something for everyone.
If you appreciate a nude beach, Slapton Sands has a signed naturist area.
If you are interested in history, Slapton Sands has an interesting history. In 1943, sadly 743 allied servicemen died due to an attack from the Nazis. There is a monument at the beach to recognise those who died in service.
Slapton Sands is also a dog friendly beach and many dogs can be see in and around the beach.
Birling Gap, East Sussex
Birling Gap is a gorgeous pebbly beach in England.
Not only does it have cute shingles but it offers visitors views of the iconic Seven Sisters white chalk cliffs.
One of the more interesting things to do at Birling Gap is to hunt for fossels. The National Trust often sets up organised walks or alternatively you can hunt on your own, DIY style!
While there are not many fabulous surf beaches in the UK, Birling Gap is one of the rare beaches where you can catch a wave.
Aldeburgh Beach, Suffolk
Aldeburgh Beach in Suffolk, one of the best beaches in this area of the UK is made up of 50% pebbles and 50% sand.
One thing that makes this beach pretty unique and special is a large shell sculpture called the The Scallop by a local artist in the area Maggi Hambling.
Other things to see in the area are a cute windmill, a 400-year-old Moot Hall and a historic Norman church.
Felixstowe Pebble Beach
There is a nice pebble beach in Felixstone in England.
So nice in fact that a woman was arrested for taking truckloads of pebbles from the beach to decorate her garden.
With pebbles this smooth, it may be worthwhile to put on your travel bucket list for the UK.
Pebbly beaches in Scotland
Like England, Scotland too has a large percentage of pebbly beaches. These are our favourite pebbly beaches in Scotland to explore:
Elgol Beach, Isle of Skye
Isle of Skye is definitely one of the best areas to visit in Scotland. It has lovely beaches including the stunning Elgol Beach.
One of the defining features of Elgol Beach is the amazing view. From the beach you can enjoy amazing views of the Cuillin Mountains.
For history buffs the beach also has a lot of historical value. Along the beach you can see a cave where Bonnie Prince Charlie retreated in 1746 after the defeat in the Battle of Culloden.
The beach also offers some of the best sunsets in the Isle of Skye.
Pebbly beaches in France
It should come at no surprise that England's nearby neighbour, France also has some great pebbly beaches.
Here are the best pebbly beaches that you need to check out in France.
Étretat, France
One of the best and most beautiful pebble beaches in France is Etretat.
Etretat is not actually famous for its pebble beach but its incredible arches and white chalk cliffs. In the 19th century these beaches were particularly popular with artists like Monet.
While some beaches in France are private only, the great thing about Etretat is the beautiful pebble beaches with stunning white cliffs are completely free to access.
If you find yourself at the Etretat pebble beach, make a stop at the cute old town center.
Plage Mala, Cap d'Ail
This pebble beach finds itself very close to Monaco.
This stunning beach is both tranquil and secluded. To access the beach, you take steps down to the beach from the town centre.
As water is very calm at this beach, it is perfect conditions for a dip in the ocean.
Ile Vierge, Crozon peninsula, Brittany
Ile Vierge beach is the prettiest beach on the Crozon peninsula of Brittany.
Its high cliffs and stunning turquoise water colour are a big drawcard for this beach.
To reach the beach you are required to scale a rocky cliff face or kayak. Don't worry, this pebbly beach is totally worth it!
Yport France
France is seriously a pebble beach paradise.
Another great spot for pebbly beaches in France is Yport.

Pebbly beaches in Greece
Greece is another fabulous destination for those who don't like sand as the country is absolutely blessed with beautiful pebbly beaches and insane water.
The unmissable pebbly beaches in Greece are as follows:
Kavourotripes, Sithonia
Sithonia beaches are known for their absolutely incredible water.
The Kavourotripes beach in Sithonia is met with not sand but our favorite, pebbles.
Despite the fact that Sithonia is predominately a pebble beach, kids will be happy to play in the odd bit of sand they discover.
An unmissable beach to relax on in the summer sun.
Lalaria beach, Skiathos, Greece
The Lalaria beach is one of the best pebble beaches in Greece.
The pebbles at Lalaria beach are small meaning it is the perfect pebble beach for lounging around as it is very soft to sit on.
It is only accessible by boat meaning it is a totally private strip of untouched paradise.
Black Beach Santorini, Greece
The Santorini beaches are known for their volcanic black sand, although there is only one called the Black Beach Santorini.
The Black Beach in Santorini, Greece is absolutely magic and a perfect place for those who seek an escape from the hectic city life.
It is located at a walking distance from the village of Akrotiri.
Akrotiri is known for its mesmerizing beaches, which include The Red beach of Santorini, Santorini White Beach, and Caldera Beach.
If you love hot weather and in need of a perfect tanned body, then Black Beach in Santorini is for you.
The black pebble absorbs more heat than the normal sand beaches. Therefore, it is VERY hot to walk on during the day. If you feel like a beach walk, a late afternoon walk is best at this beach.
Pebble Beaches in the USA
The USA has a variety of beaches both sandy and pebbly.
If you prefer not getting sand between your toes, here are the best pebble beaches for you in the USA.
Wai'anapanapa State Park
Wai'anapanapa State park in Hawaii is a very special pebble beach because not only is it pebbly but it has black sand, which is pretty cool.
If you love camping the black pebble beach at Wai'anapanapa State Park has great campgrounds including tent spots and cabins as well as awesome hikes including through a cool lava field.
Key Largo, Florida Keys
Key Largo Beaches including Cannon Beach & Far Beach mostly comprise of rocks and coral
The Florida Keys beaches are made up of mostly rocks and shells due to its location, situated on a coral reef.
The beaches are nethertheless very beautiful and absolutely perfect for snorkeling.
Black Pebble Beach, Oregan, USA
If you prefer the black pebble variety, another black pebble beach in the USA is called Black Pebble Beach – very original.
This cute, little beach is located on the Oregon coast at Yaquina Head.
The beach is popular with those who like to hunt for sea life. You can see sea anenomes, urchins, and mussels during low tide at Black Pebble Beach in Oregan.
Jasper Beach, Maine, USA
Located in Howard Cove, this pebble beach is one of the most popular in the USA.
Jasper Beach is not just an ordinary pebble beach. The pebbles at Jasper Beach comprise of many different and beautiful colours.
The downside of Jasper Beach is that the water is typically cold making it not the best beach in the USA for swimming.
Pebbly beaches in Iceland
Iceland is famous for having some very cool beaches including some lovely pebbly beaches.
If you want to visit the beaches in Iceland you may want to visit in Summer as it can get extremely cold in Iceland during winter.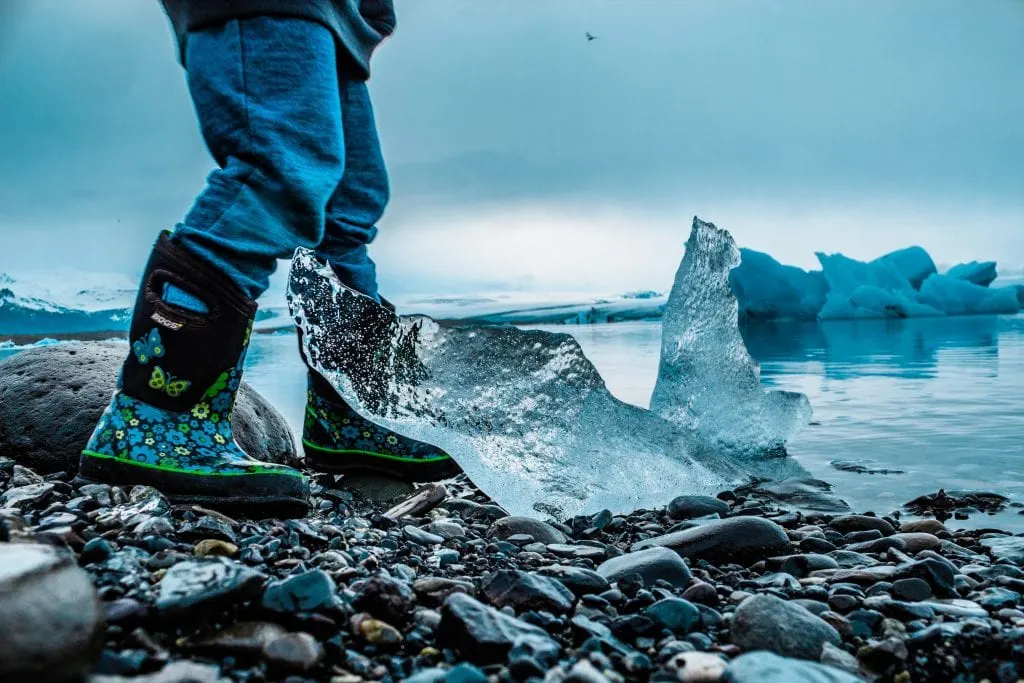 Black Sand Beach, Vik Iceland
One of the most stunning black sand beaches in Iceland is the Black Sand Beach in Vik, Iceland.
This beach is located on one of the most scenic drives in Iceland, the ring road, about a 3 hour drive from the capital of Reykjavík.
This pebble beach is very interesting as it is comprised not of rock but of lava.
The cliffs at the beach have become particularly popular for Instagram photoshoots.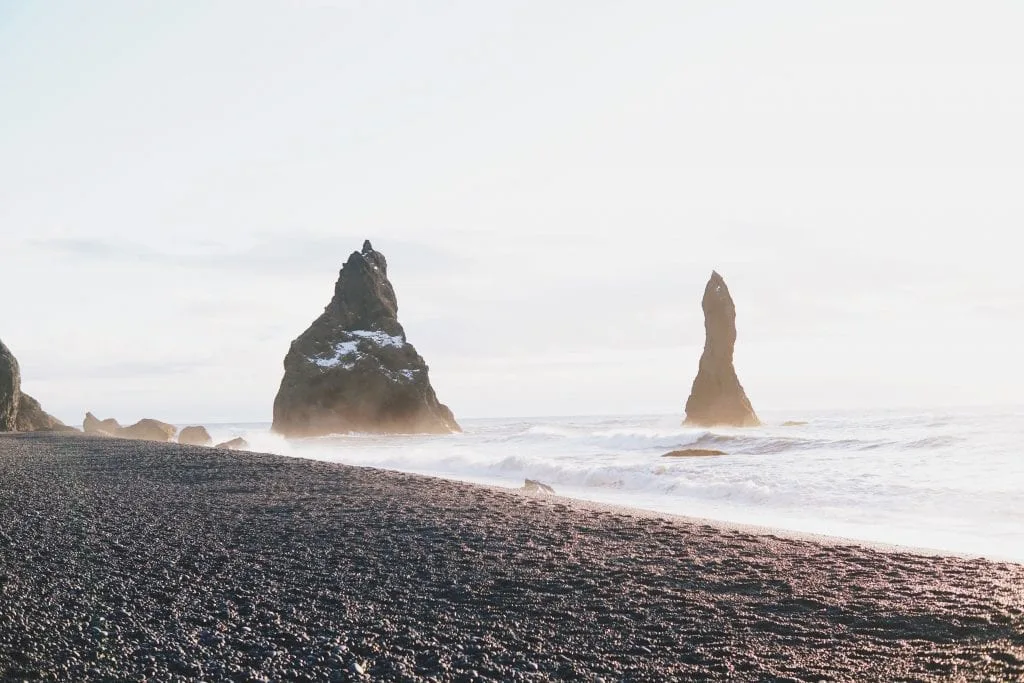 Pebbly beaches in Peru
Interestingly enough, Peru has some cool pebbly beaches.
Here are the absolute best pebbly beaches in Peru
Trujillo, Peru
One of the best pebbly beaches to visit in Peru is Trujillo.
This is one of the most beautiful beaches in Peru. The beach is surrounded by a cool, palm esplanade, perfect for sunset strolls.
Pebbly beaches in Italy
Italy is one of our favourite places for pebble beaches.
Sestri Levante, Italy
Sabbioni Beach, Lake Garda, Italy
Sabbioni Beach in Lake Garda, Italy is the perfect pebbly beach to spend time with your family. Lake Garda itself has a very relaxed laid back vibe so it is perfect for a relaxing vacation.
If you like a pebbly beach that isn't crowded with tourists, Sabbioni Beach is Lake Garda is for you. While it is popular with locals, you rarely see a tourist frequent this beach.
The pebbly beach is well equipped with snack shops, resorts, public showers, and even basketball courts.
Isola Bella Beach, Sicily, Italy
Isola Bella Beach in Sicily, Italy is an amazing pebbly beach surrounded by crystal clear water and tall green trees. This place is the perfect tourist spot for those who like to hike and swim.
You have to walk through a huge track to get to Isola Bella Beach, but once you're there, it is totally worth it.
You will have to pay a $3 fee to get to this island and a little bit more to enter it.
The local stalls are quite expensive, and so are the resorts or restaurants, so try bringing your food.
Interestedly enough, you can even get a beachside Thai massage here!
Pebbly beaches in the Philippines
Philippines some of the best beaches in the world. Areas like Coron and El Nido including the Twin Lagoon will blow your mind.
Traditionally, beaches in the Philippines are rock beaches. However, it may surprise you to hear that the Philippines also has some of the best pebble beaches in the world.
Mabua Pebble Beach, Philippines
If you love pebbles beaches, Mabua Pebble Beach is one of the best pebble beaches in the Philippines.
If you would like to visit, it is located 30 minutes from one of the best beach destinations in the Philippines, Siargao.
Mabua Pebble Beach is a unique beach in the Philippines as like we mentioned above, most beaches are sandy in the Philippines, not made up of white, shiny pebbles.
The beach is located a 30 minute drive from the city centre.
Ampere Beach, Philippines
Ampere Beach is another beach in the Philippines which is filled in pebbles rather than sand.
Ampere Beach is a popular beach to explore in the Philippines as the pebbles and rocks are both very large and very small.
This beach is highly recommended as it has a gorgeous view out to the ocean, past the large boulders on the beach.
Valugan Boulder Beach, Philippines
Valugan Boulder Beach is a cool beach to visit in the Philippines as it has a very interesting past.
The beach was created in 400 AD when Mt. Iraya erupted, causing rocks and pebbles to scatter around Basco.
Pebbly beaches in New Zealand
New Zealand is another great place to visit. The landscapes in New Zealand are second to none.
While New Zealand epic landscapes are traditionally more countryside scenes, there are a few pebble beaches that are worthwhile checking out in New Zealand while you are there.
Black Pebble Beach, near Kaikoura, South Island
Kaikora is of the best places to travel for beaches in New Zealand.
The black pebble beach is not usually included in a traditional New Zealand itinerary but if you are not a sand enthusiast it is a beach not to be missed for its black pebbles and emerald green waters.
If you would like to include the beach on your itinerary, it is located near the small town of Kekerengu.
Hokitika Pebble beach
The cute beachside town of Hokitika also has a pebble beach that is worthwhile checking out.
Hokitika is a cute town in its own right. It takes about 3.5 hours drive from Christchurch to Hokitika.
Many people choose to enjoy some local seafood like Porky's Takeways as they enjoy Hokitika's pebble beach.
Shark is a specialty dish to try in Hokitika.
Birdlings Flat Beach in New Zealand
Birdling Flat Beach is one of the deadliest beaches in the world. It is reported that one or two people die at this spot each year.
The water moves so fast at this beach that it can be impossible to reach safety if you get caught in a current.
Aside from being one of the deadliest beaches in the world, it is only one of the nicest pebble beaches in New Zealand.
Along with pebbles, this beach is known for its precious gemstones so it is popular with geologists.
Pebbly beaches in Thailand
Thailand is another one of those places that springs to mind when you think of epic beaches.
Some of our the best sandy beaches in Thailand are located on Phi Phi Island and Koh Lanta among the various other awesome islands in the Thailand.
But what about pebble beaches. While Thailand does not have a myriad of pebble beaches, there are a few epic pebble beaches in Thailand that are worth mentioning.
Kai Mook Beach
Many locals don't consider Kai Mook Beach a real beach as it is comprised of sand as opposed to pebbles.
It does not mean this beach is not highly valued in Thailand. The exact translation of the beach is Pearl Beach due to the different sized pebbles on the beach that look like pearls.
It is recommended for those who like a relaxing vacation as it is a very peaceful and quiet beach.
Pebble Beaches in Germany
I think it's a safe bet that Germany is not the first country which springs to mind when planning a lovely beach holiday, at least for non-Germans.
However, Germany actually has plenty of stunning beaches to contribute to this list.
Rugen Island
Rügen Island is located in the Mecklenburg-Vorpommern some 228 km (142 miles) from the capital, Berlin.
Head to the famous attraction Stubbenkammer to find not only lovely pebbly beaches but also impressive white chalk cliffs. The entrance fee is €9.50 but if you're an early riser or if you arrive after closing time, it's not possible to purchase a ticket to enter but you can still walk in (sshhh).
It's no wonder Berliner's consider it to the be their "Brighton". The Baltic Coast shares more than just pebbly beaches and chalk cliffs with the South Coast of England.
Pebble Beaches in Malta
Malta is a stunning and very underrated tourist destination in Europe.
And, yes, it has some pretty nice pebbly beaches too! Here are our favourite pebbly beaches to visit in Malta.
Dahlet Qorrot
Dahlet Qorrot is a lovely beach area in the North West of Gozo. To get your bearings it is located nearby the villages of Nadur and Qala.
The cool thing about Dahlet Qorrot is that it is a quiet beach, so it you like nice, romantic, secluded spots then this is a beach for you.
If you have kids it is also a great place for swimming as the water at the beach is calm and shallow.
Dwejra Bay
You can also find a small, pretty pebbly beach at Dwejra Bay in Malta linked by the sea from a 60-metre long cave.
Despite this beach being small, it is a great place to visit for the quaint village of San Lawrenz. If you appreciate diving you will be happy to learn that there is a prime diving spot nearby known as the Blue Hole.
Pebble Beaches in Croatia
Croatia is a stunning country which is a tourist hot spot for the amazing beaches.
If you prefer the pebble kind, here are some unmissable pebble beaches in Croatia.
Brač, Croatia
The island of Brač, Croatia is a top hotspot for pebble beach lovers.
Brač, Croatia is in fabulous proximity to Split (only a ferry ride away) and boasts awesome beaches with stunning white pebbles to boot.
Brač, Croatia is not all about the beach, the town has a lot of charm including labyrinth-like streets which are awesome to explore.
Pebble Beaches in Ireland
Like England, Ireland has some great pebble beaches.
Fun Fact: It is the 20th largest Island in the world! Here are the best pebble beaches in Ireland.
Strandhill Beach, County Sligo
One of the best pebbly beaches in Ireland is Strandhill Beach.
Not only is it a great pebbly beach but it is a fabulous beach to learn how to surf in Ireland.
Learning how to surf with this backdrop is pretty special!
Salthill Beach, County Galway
Ireland has dozens of pebble beaches but none like Salthill Beach.
Parts of Salthill beach are pebbled and other parts are sandy.
A short half hour stroll brings you into the boisterous city of Galway with its historic walls. Here you will find a live music scene and artsy spirit.
The Slavic House in Galway is one of the best places in town for Irish food and local beers.
Pebble Beaches in South Africa
Being a country that stretches along the South Atlantic and the Indian Ocean, there are tonnes of beaches to enjoy in South Africa.
Here are the best pebble beaches in South Africa.
Coffee Bay Beach
Pebble or not, one of the best beaches South Africa has to offer is Coffee Bay Beach.
Coffee Bay is known as South Africa's best tourist spot. Not only that but, it also provides an excellent opportunity for swimming, sea-diving, horse-riding, and much more.
Parts of the beach are rocky and pebbly and other parts are comprised of sand.
Additionally, it has amazing tracks for running and walking. The eye-catching landscapes of black-faced cliffs, jaded hills and mountains make it one of the best tourist destinations in South Africa.
Kogel Bay
An incredible jaw-dropping pebble beach in South Africa is Kogel Bay. It is one of the most top-rated beaches in South Africa.
The Kogel Bay provides tourists not only with incredible landscapes but also an awesome pebble beach with lots of nooks and crannies to explore.
If you are in the area don't miss the seeing the bioluminescent glowing plankton.
Pebble Beaches in Colombia
Colombia is an awesome country bounded by the Caribbean Sea.
One of our favourite things to do in Colombia is to explore the mountains including Salento from Medellin.
When we are not in the mountains we are hitting up the beaches. Colombia has many beaches and a few of them are pebble beaches.
Here are the top pebble beaches in Colombia.
Capurganà
One of the most beautiful beach in Colombia is Capurganà
Capurganà beach is seriously paradise on earth. It is rated in the top beaches of Colombia because of its tremendous and captivating landscapes.
It not only it is a pebbly beach but also offers has lush green jungles. The sea tides crash onto the rocky cliffs making this beach a perfect place for tourists and daydreamers alike.
If you are lucky you might be able to spot some leatherback sea turtles laying their eggs.
If you are in this area don't miss, El Aguacate with its perfect green color waters and off-shore corals.
Note: there is some sand at this beach.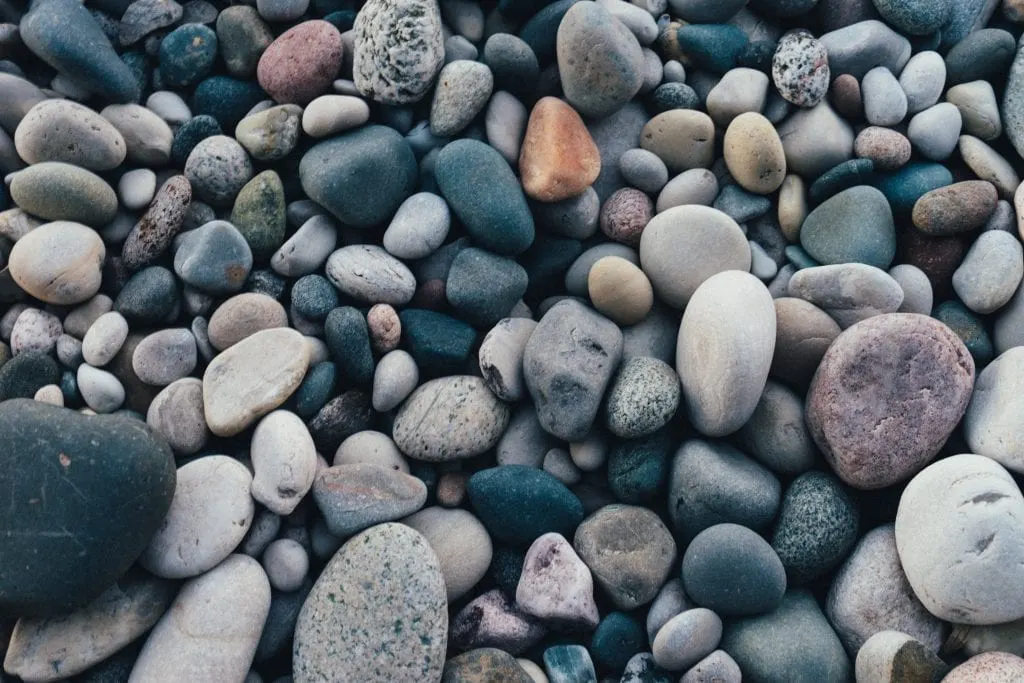 Pebble Beaches in India
There are a few pebble beaches in India that are worth including in the list.
Ross Island, Andaman And Nicobar Islands
Ross Island is not like any other beaches in India because of several reasons.
The Ross Island is a historic pebble beach in India as it was once used by the British.
It is known solely for its thick forests and scenic views.
Pebble Beaches in Wales
Like England and Scotland, Wales has many amazing pebble beaches
Here are the best known pebble beaches in Wales.
Llandudno North Shore, Conwy
Wales is a big winner for sand haters as it offers some of the best pebble beaches in the world.
Llandudno North Shore is the busiest tourist spot of Wales. The tourists from around the world visit this pebble beach for the view of the Great Orme headland.
This beach not only provides a captivating view but also a handful of entertainment for its visitors as well. That's not all, something amusing about this beach is that tourists can even saddle up for a donkey ride.
Pebble Beaches in Norway
Norway is known for its beauty and nature. Tourism plays a major role in Norway's economic growth each year.
This country is well known for captivating landscapes and has some of the most amazing beaches in the world including pebbly beaches.
Uttakleiv, Leknes, Lofoten
This beach has to be one of the most spectacular pebble beaches in Norway.
Not only that, this beach has an incredible views of the Northern lights in winter. The ability to watch the northern lights from the beach makes this place a stranded slice of heaven.
In the daytime, the beach is a photographers delight with the perfect immersion of sand and pebbles, making it a very beautiful beach landscape.
Pebble Beaches in Portugal
Portugal's beaches are famous for their amazing cliffs which always have a unique geometry of their own.
However, Portugal does not disappoint when it comes to pebble beaches as well:
Faja dos Padres, Madeira
In the South-West of Portugal floats the island called Madeira. A bit off the highway lies the famous Faja dos Padres.
The chunky beach not only provides breath-taking views of the sea, but it is a picture perfect pebble beach.
Ribeira da Janela
At the western tip of Madiera island, is another cool rock/pebbly beach called Ribeira da Janela.
Pebble Beaches in Algeria
Interestingly, there are a few very nice pebbly beaches in Algeria that you might be interested in visiting.
Les Aiguades, Bejaia
As you descend the cliffs of Bejaia, you come across the beach of Les Aigues. The beach is lined with pebbles of all sizes.
This beach is perfect for a family trip as the water is shallow and calm.
Pebbly Beaches in Russia
Russia and beaches – appears as if a mismatch but wait. Russia has some cool pebbly beaches worth seeing as well. Following are a few of them:
Sochi, Russia
The town of Sochi lies along the upper coastline of the Black Sea opposite Turkey.
The pebble beach of Sochi is actually one of the best tourist spots in Russia.
A glass of pina colada from one the best restaurants on the Sochi beach is sure to leave you refreshed.
Sochi Beach Russia Source: Flickr
Glass Beach, Ussuri Bay
Glass Beach in Ussuri Bay Russia is one of the coolest beaches we have come across.
The beach is seriously one of a kind as its pebbles are made of glass.
How did it form? Well, for a long time, the Pacific has been washing away glass bottles and plastics on the shore of Ussuri Bay
The chunks have nicely been trimmed into perfect multi-colored pebbles. It's definetely a must-visit whenever you travel anywhere near Ussuri Bay!
Pebbly Beaches in Ukraine
Ukraine is one of our favourite places to visit. It has some seriously cool and unique places like The Tunnel of Love but also some epic beaches to explore!
Crimea Beach, Ukraine
Crimea is pretty much off limits for travel at the moment but it has a cool pebbly beach so let's leave it on the list – for later.
Washed up on the beach of Crimea are pebbles of all colors.
If you are wondering if Ukraine is safe to travel right now, the short answer is yes, in most places so don't avoid it on account of Crimea!
Pebble Beaches in Turkey
Turkey already has a long history which attracts tourists from all over the world.
Not only does Turkey have an interesting history but it has very beautiful shingle beaches
Konyaalti Beach, Antalya
One of the very best and pebbly beaches in Turkey is Konyaalti Beach in Antalya.
The beach is lined by stones in all colors and sizes. All you have to do is relax in the warm sun, drink in hand, while the children choose which stones are they to collect.
Big Pebble Beach, Kas
If the name gives you any indication, Big Pebble Beach is one of the best pebbly beaches in Turkey.
Not only does this beach have pebbles but it has pretty epic scenery with cliffs above the vast Mediterranean Sea.
Pebble Beaches in Morocco
Morocco is one of the beach capitals of the world.
Morocco may have a sand and dunes stereotype but there are a few good pebble beaches in Morocco worth mentioning.
Bades Beach Morocco
If you are looking for shingles, Bades Beach is a good place to start as it is home to a lovely pebble beach.
Pebble Beaches in Spain
Spain is definitely one of our favourite places to visit and one of the best beach destinations.
Some of the finest pebble beaches in Spain include:
Altea, Costa Blanca
The Costa Blanca beach is a very luxurious beach experience as it is ilned by a large number of luxury hotels and restaurants.
As of the beach, it is entirely covered with pebbles. Be careful when you walk on the ones in the water as they can be a bit slippery at times.
Pebble Beaches in Bulgaria
Bulgaria is a pretty cool place to visit. We enjoyed spending some time in Sofia last year.
If you are looking for pebbly beaches, Bulgaria has a few.
Thracian Cliffs
Under the diverse landscape of the Thracian Cliffs you will find some epic pebbly beaches.
The shore is treated among the most remarkable spots in Europe. It is not an ordinary pebbly beach but one lined with epic, white cliffs.
Pebble Beaches in Tunisia
Let's talk about Tunisia. Though Tunisia does not have much when it comes to completly shingle beaches it still has some noteworthy picnic spots:
Rocky Beach, Hammamet
The Rocky Beach in Hammamet is less of a pebble beach and more of a stone and rock beach, but it counts shingle right?
Monastir Bay
A major part of the Monastir Bay is white and sandy.
However, if you are looking for pebbles, there are also areas of the Bay where you can find loads.
Pebble Beaches in Sweden
Sweden, surrounded by the North Atlantic Ocean and Baltic Sea features some of the most beautiful pebble beaches in the world.
Here are the most lovely and appealing pebble beaches in Sweden.
Hovis Hallar Beach in Sweden
If you have watched the famous chess scene from the movie 'The Seventh Seal', then you might be familiar with this beach. It is one of the best tourist spots in Sweden.
Not only is it a stunning pebble beach but the sunset at Hov's Hallar beach is one the best in Sweden. A great place for an Instagram photoshoot
Pebble Beaches in Denmark
As would be expected, there are some pretty great pebbly spots in Denmark.
Mons Klint Beach in Denmark
We visited Mons Klint Beach on a road trip from Copenhagen in Denmark.
If you are a history buff or a geologist, then Mons Klint beach should be on the top of your traveling list.
Located at a two hours drive from Copenhagen, this place has a variety of fossils. Some are said to be over a million years old.
This beach attracts thousands of tourists each year due to its stunning tall white cliffs.
Summary: Pebbles Beaches around the World!
So here are what we consider the very best pebbly beaches around the world!
Did we miss your favourite or do you have another we should add? Let us know in the comment below.
Save Pebbly beaches in the World to Pinterest so you can find it again later!